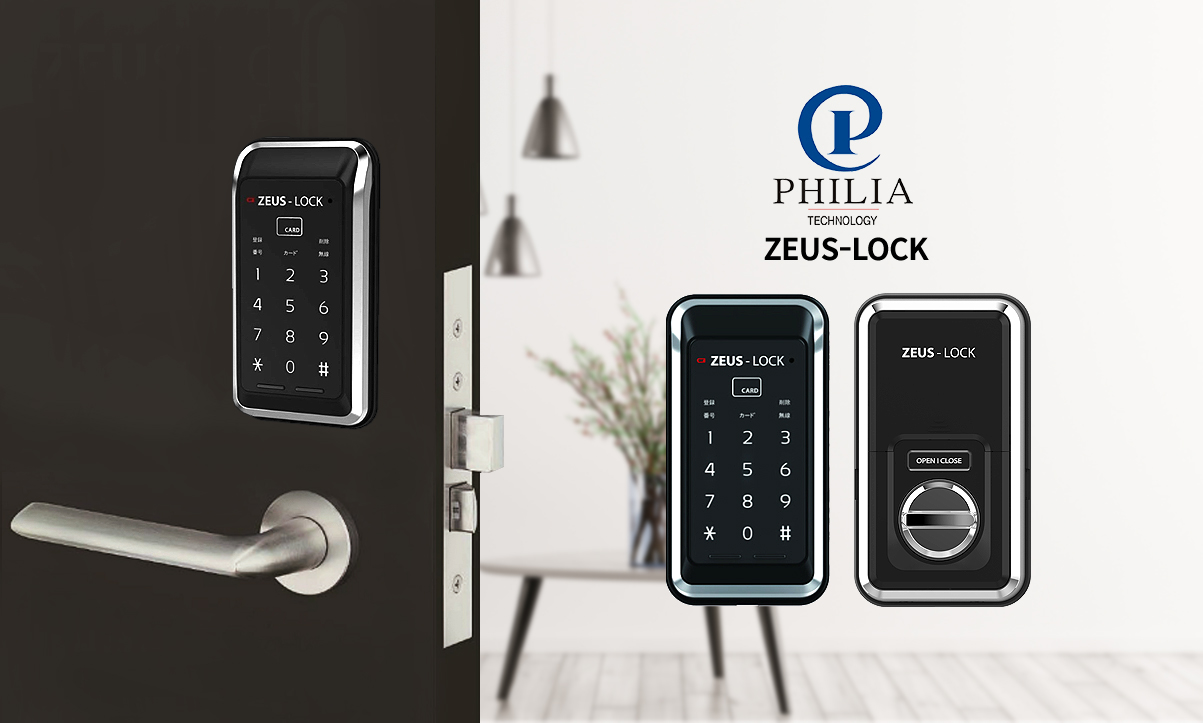 Product Features
· Auto/Manual Mode

Convenient automatic/manual mode conversion function

· 4WAY Unlock

4 types of authentication function such as Password, RFID Card(NFC), Remote Control or Emergency Key.

· Two-factor
Authentication Mode

Two-factor authentication fuction for user safety

· Intrusion Alarm

The function that alerts you of an intrusion by sounding an alarm when the door is forcibly opened while it is locked.

· High Temperature Alarm

The function for user safety in emergency situations where the lock is automatically released at the same
time as an alarm sounds when an internal fire or high temperature over 70℃ occurs.

· Internal Security Mode

The fuction to block unlocking from exposed passwords and cards

· 3 Minutes LOCK

When password authentication or card recognition is wrong 5 times, an alarm sounds and operation is
stopped for 3 minutes at the same time.

· Emergency Power

The function to use the 9V battery as an emergency power source when the battery is exhausted.

· Self-lock

When the door is closed, it is automatically locked by the attached magnetic sensor.

· Low Battery Warning

When the battery of the lock is low, an alarm sounds and the battery warning light turns on.
Product Specifications
· Product Name

ZEUS-LOCK

· Product Type

MORTISE LOCK TYPE

· Product Size

- Outdoor UNIT 66mm(W) X 129mm(H) X 20mm(D)
- Indoor UNIT 71mm(W) X 129mm(H) X 41.5mmm(D)

· Mortise used

MIWA (LA, LSP lines) / GOAL (LX lines)

· Door Thickness

30mm~50mm

· BACK SET

51mm, 64mm

· Power Used

DC 6V (ALKALINE LR6 AA 1.5V 4EA)
※ Lithium-ion rechargeable battery cannot be used

· Emergency Power

9V square battery (6LR61)

· Battery Life

- About 1 year when using password or card (10 times/day)
- About 8 months when using password or card or remote control (10 times/day)

· Card Specifications

Mifare (ISO14443A), Felica (ISO18092)

· Unlock Method

4 types of Password, RFID Card(NFC), Remote Control and Emergency Key.

· Maximum User Memory

1 password, 10 guest passwords, 50 user cards

· Locking Device Material

ZnDC, AlDC, Polycarbonate

· Operating Temperature

-30℃ ~ 60℃

· Waterproof and Dustproof

IPX5 (Outdoor unit)
Product Use
· Locking device for entrances to places that require security and convenience, such as offices, homes, and guest houses.
Installation and Usage Video